Fall in Love With Your Life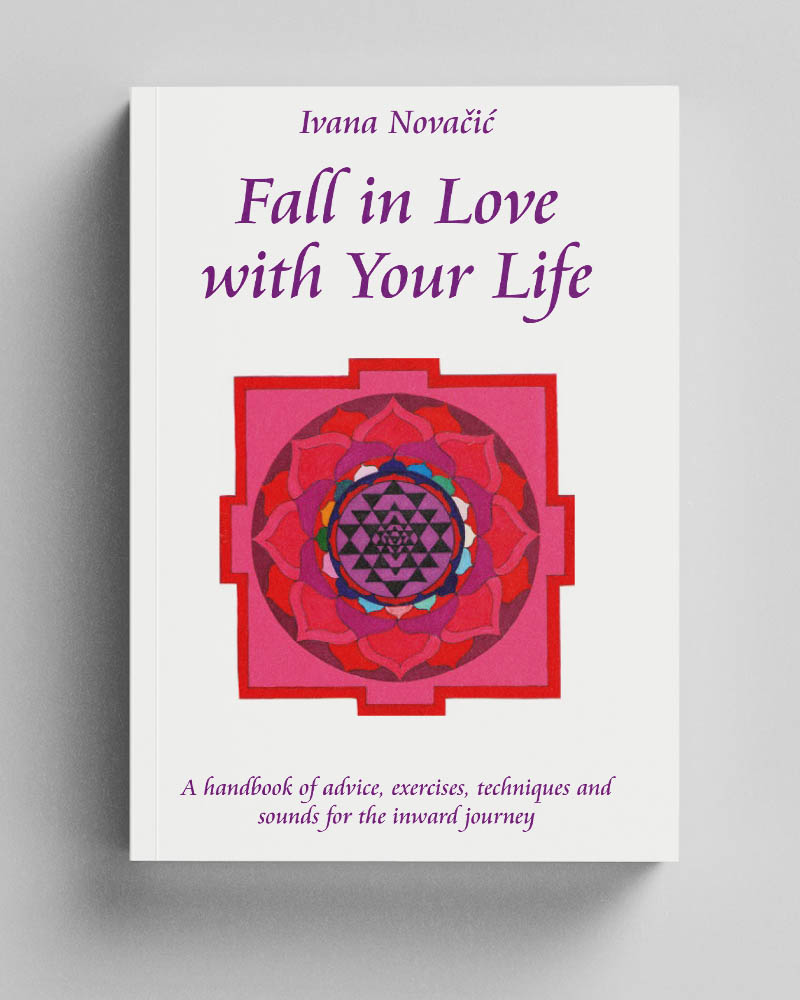 Fall in love with your life - ebook
This book contains an abundance of advice, techniques and personal experiences with view to balancing out and enhancing our general physical, emotional, mental and spiritual states. It has been envisaged as a whole, but it has been divided into chapters that can be used separately:
Change; Seven Chakras and Seven Rays of Light;. The Elixir of Life – ORMUS; Breathing; Meditation; Lucid Dreaming; Mudras; Colour Therapy; The Wondrous Power of Sound – voice & sacred instruments healing work; Crystals; Angels; Mandalas; Forgiveness; Physical Body; How to Integrate Your Soul; Love and Gratitude.
Everybody is free to practise that which best corresponds with their affiliations and the time they are ready to dedicate to themselves. I wish to encourage as many people as possible to become aware that they hold the responsibility for the gift known as life, as well as the freedom to choose whether they will show they can cope with this responsibility. The exercises and processes described have been tried out by me, so I recommend them to you with full confidence in their efficiency.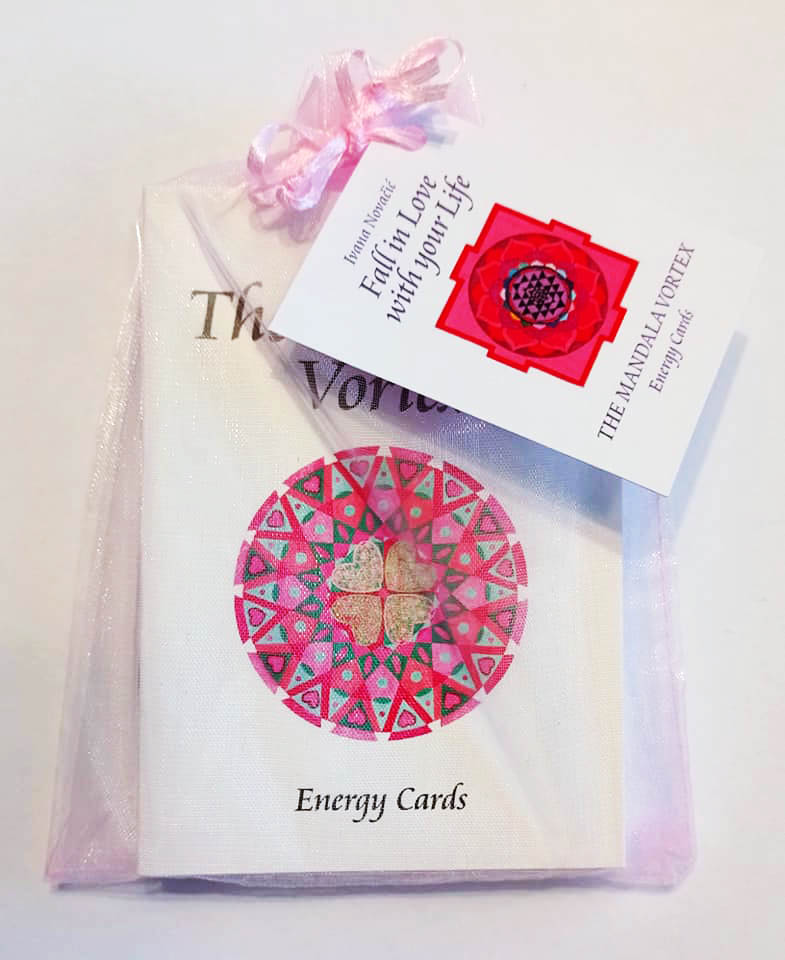 The Mandala Vortex energy cards deck - printed
The Mandala Vortex energy cards are inspired by the themes found in the book titled "Fall in Love with Your Life" and are a tool to facilitate some of the exercises, techniques and chapters given in the book. 
How to merge with the techniques and energies from the book?
If we, for instance, want to merge with the energy of one of the Archangels quickly and easily, it is enough to place the corresponding card in front of ourselves, or take it into our hand, and focus on it for a couple of minutes. We can relax and forgive with more ease, fill our heart with love and balance our chakras with the help of these cards. We can also connect with rays of light and elements of nature, get in touch with our inner child, dive into the meditative state, enhance our manifestation energy, connect with the rainbow bridge, balance the colours of our aura, surrender to blessings, dissolve in the embrace of Mother Divine, and many other things. 
How to use the cards?
We should concentrate on the image with a few deep breaths in and close our eyes for a short while in order to focus our attention and calm down. Then we direct our gaze into the mandala. We can dive into it, surrender and let it embrace us with its energy. Once we are in meditative state, looking at it, and breathing calmly, we could get the sense of lightness, intuitive thoughts, or insights and after all we can consult the Guidebook and read the general meaning for every mandala card.
How to get answers to your questions?
After asking a question we pick a card at random or take the one which draws our attention. We follow the answer given underneath the mandala and read general explanation in this Guidebook. The theme of the card/s might follow us through the entire day, for a string of days, or even through a longer period of life.
Ivana Novacic is a graduated musician/ singer and a Music teacher. She holds a degree in Sound Therapy (D. ST.) from the United Kingdom. Currently an active singing coach and a soloist in concerts, she also organises lectures, seminars and educational workshops about sound therapy, in which she uses her voice, Tibetan and crystal bowls, the gong, Indian drums and tuning forks. She is a teacher and practitioner of theta healing and Reiki natural healing system, but she has also undergone educational programmes concerning drawing, painting, crystal works, breathing and meditation. She is the author of "Fall in Love with Your Life", which is a reference book containing advice, exercises, techniques and sounds for the journey within. On top of that, she is a member of the Croatian Musicians' Society, Theta Healing Institute of Knowledge, and the British Contemporary Medicine Association. She lives in Zagreb, Croatia.
Traditional and New Reiki Systems REIKI Usui Shiki Ryoho is a basic system of learning to lay hands and is considered a fundamental Reiki technique and is called traditional by many. There are four levels of learning up to Mastery. In recent times, a number of complex and simpler methods have been developed, the layering and diversity of which allow us to choose the one that resonates most with us and our needs at a given moment:
SHAMBALLA MULTIDIMENSIONAL HEALING, KUNDALINI REIKI, GOLDEN REIKI, GOD ATTUNEMENT, SEKHEM SEICHIM REIKI, KARUNA KI REIKI, IMARA  LAVENDER FLAME REIKI, ANGEL CONTACT REIKI, ANGEL REIKI SYSTEM, GREEN TARA REIKI, LORD KUTHUMI REIKI, RAINBOWS REIKI, FULL SPECTRUM REIKI, ORB OF LIFE, ALPHA OMEGA HEALING, MAHATMA ASCENSION REIKI, REIKI BLUE PROTECTION, ALLOW ABUNDANCE REIKI, MONEY REIKI, SILVER VIOLET FLAME REIKI, VIOLET FLAME REIKI, ISIS BLUE MOON REIKI, SILVER MOON REIKI. TACHYON ENERGY HEALING, 24 ENERGIES FOR ADVANCED HEALING TECHNOLOGY, 5D LIGHT BODY ACTIVATION, 7D LIGHT BODY ACTIVATION. 
Initiations, Certificate and instructions for work.